I want to marry Spain's underground tram system. Don't judge me, okay. Think how beautiful the kids would be!
On the other hand, the weather might have affected my habitual disdain for public transport. I prefer cars at home because they deliver your right to the door; something greatly to be valued when it is pissing rain. If, on the other hand, you know sunshine is guaranteed except for maybe five minutes a day when the sun hangs out behind a cloud, you probably don't mind walking a few blocks from the bus stop to your destination. At least, so I hypothesise based on my own experience.
Following on from this, I was heartily surprised that most Spanish women didn't take advantage of the fact that: you can wear lipgloss without nine-tenths of your hair sticking to it in seconds; and the rain never ruins your hair. They seem to just throw it up any old way. Then again, Spain has some of the most beautiful people I have ever seen. When you're naturally that hot, why bother?
It was actually quite disheartening, this level of beauty. Most other hot countries, I realised, have at some point been colonised by British convicts. As everyone knows, the British and Irish are the ugliest people in the world. It's hard to see why, given that Vikings were Scandinavian and Saxons were German - both races quite attractive - but there it is. A mystery for the ages. If I went to America or Australia it would be accepted that no, I can't tan, I was born that way. In Spain, mothers pointed at me in the street and said, "See, kids? THAT'S what happens if you don't eat your vegetables."
Far more young people smoked than was sensible.
There are many tiny dogs. As a result, I emitted many tiny screamlets. My mother was annoyed. I now want a bulldog with mad fairy ears
more than I want a kitten.
Ye gods. Obviously, I will call him Cyril.
We stayed in Barcelona and visited Girona, Figueres and Tarragona. I enjoyed the heat mightily, saw more of my own legs than I have in a decade, and thought my way past the stumbling block I had on my
harlequin_bands
fic. (There are better reasons to go to Spain than to cure writer's block, but if the shoe fits...) I have Dali's jewelled, beating heart to thank for that. On the Bus Turistique I nearly cried when we drove past the Unfinished Cathedral - not because of the Cathedral, which is admittedly pretty awesome, but because the commentator said that Gaudi was asked when the Cathedral would be finished and he replied: 'My client is in no hurry. God has all the time in the world.' I regretted bringing a camera, because I was mostly too busy taking pictures of interesting things to look at them.
If you want to know more about these places, I suggest you read a guide-book. In many ways the bus trips and the sign-boards and the information leaflets were too much like homework. I retained exactly what I wrote here; nothing more.
I'm sitting atop a Roman aqueduct in Tarragona. Do not be fooled by my blasé attitude of unconcern! It is a LONG WAY DOWN. (My mother, I think, is pretending to be a gargoyle, having mixed up 'Roman' with 'Romanesque.')
Also: WHITEST PERSON IN SPAIN, SRSLY.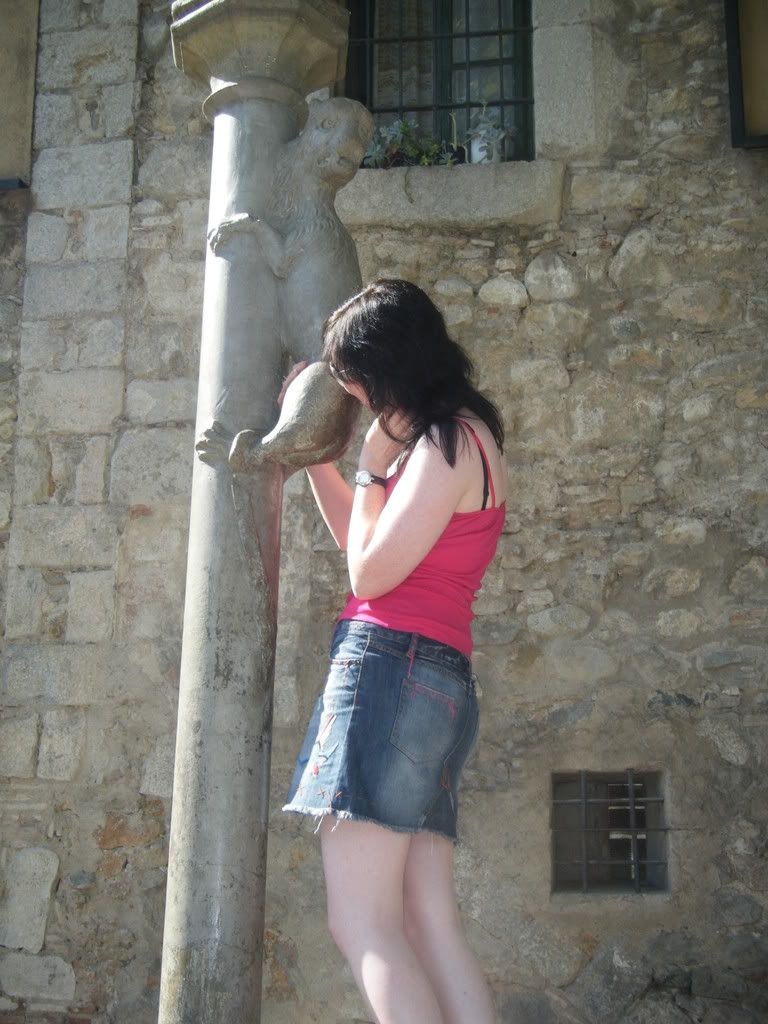 In Girona, kissing a lion's butt for luck. The rimming element, naturally, occurred to me
afterwards
.
I must be the only person in the world who can wear a miniskirt and make it look like granny couture.
Current Mood:

cynical
Current Music: we're from barcelona (i'm from barcelona)