+: my tablet finally arrived! Suck on that, snow. Prepare to be indundated with a wave of my feeble sketches from now till ... forever. Or until the despair at my lack of talent stills my hand.
-: my blonde friend got off with the cute SHO at the ball last night. I did not attend said ball, thankfully - I didn't need to see that up close.
To cancel out the -, I'm going to post my attempt at illustrating the blue goat scene from
blindmouse
's superlative fic,
Drink Me
. I fail at colouring, so the goat isn't actually blue. Neither do Brendon and Vicky-T remotely resemble themselves. And I haven't drawn with anything but a biro since art school, four years ago, and boy does it show. See how much I abase myself for a little pity-praise? SHE GOT MY BOY, YOU GUYS. I need to dye my hair blonde, stat...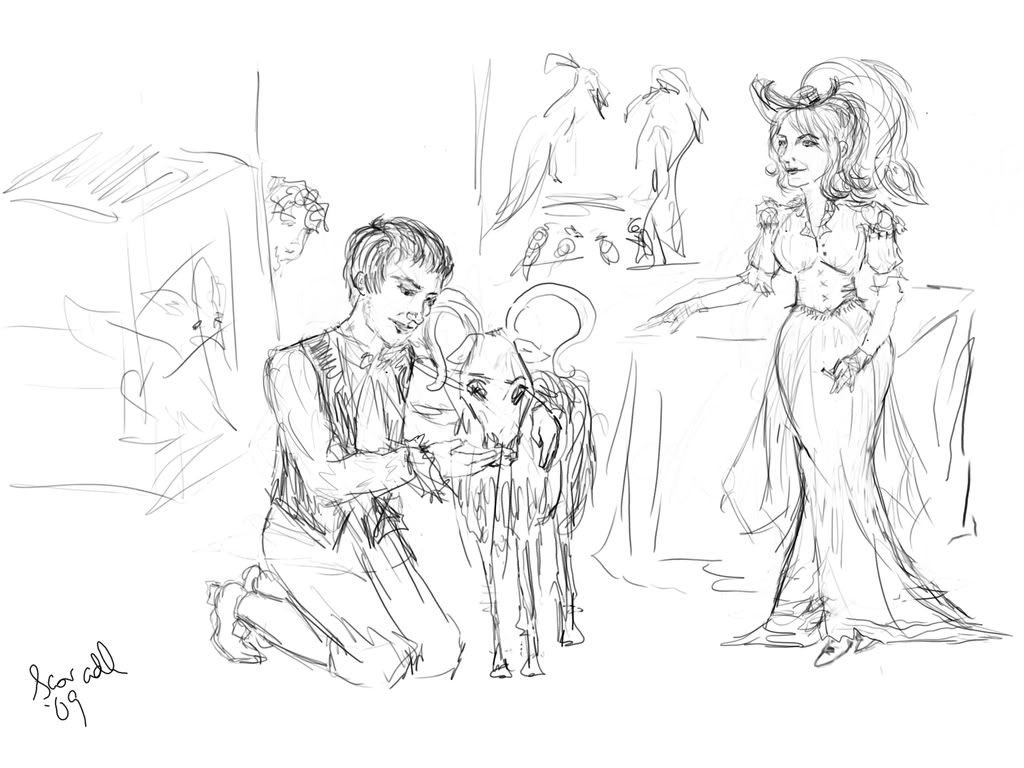 I do believe that's an Alex in the background. Or Marshall. The one with the hair, anyway.
It shouldn't have been soothing inside. There were birds of paradise and tiny dragonets circling the rafters, and gilded cages lining every wall with creatures peering out of them, calling mournfully or chittering in excitement or emitting whuffling snores. Three or four winged cats and a goat with fantastical blue-and-gold horns were wandering free about the store; the goat came up to butt curiously at Brendon, and Brendon automatically reached out to pat its head. All five Alexes were also present, and they were possibly making more noise than the animals. Brendon felt himself breathing easier, nonetheless. He really, really loved Vicky-T's shop.
~
cest_what
Current Mood:

sad
Current Music: strike me down // the reindeer section