I got A Talk today. About My Future. Yes, my parents would be Greatly Pleased if I did medicine.
I, on the other hand, Would Not Be.
So I got given what must be the Holy Grail of parenting: the 'You need to grow up!' line.
I feel like Wendy. And there is one girl with whom I've never felt a particular empathy before.
Anyway, was watching PoA, because I am a Lost Girl, seemingly. I quite like it, faults aside. BUT. A point on the shipping. I've heard no end of rants about the ships it seems to promote, from Harry/Draco to Sirius/Remus and everyone in between. (Oh, and the After the Injury conversations of Draco and Pansy and Hermione and Ron seem strangely alike, don't you find?)
But they have forgotton the most glaring one! Harry/Hedwig! Oh yes. I saw all the owl pictures on his bedroom wall in the Dursleys' house. And all those orgasmic looks he gives whatever thing is the subsitute for the CGI bird. I tell you, this is only encouraging those ubiquitious H/H shippers in their plan for fandom domination! And it'll be, first the fandom, then the WORLD!
Oh, and look at the pretty I stole.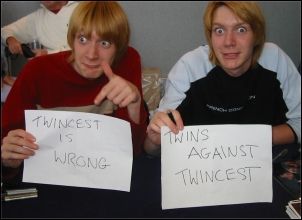 Although, after reading The God of Small Things (only the best book in the history of Booker winners, or something) I remain ambivalent. Good writers can get away with murder...and twincest. (Although the lovely Phelps are quite right not to advocate it in RL. Stupid fandom. They aren't the Weasleys, REALLY.)
Current Mood:
silly
Current Music: 'Chocolate', Snow Patrol