Dad brought me home loads of CAO stuff from the papers. Vastly entertained as I was by all the study guides (now I'm well out of it) this caught my eye and made me think (a painful process, as you can well imagine) 'Ooh, that's me!'.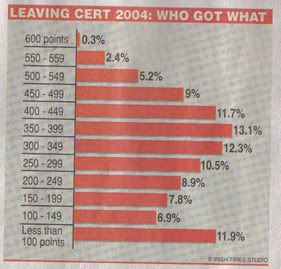 I wonder how many of the rest of the 0.3% are doing medicine right now? I like to think that, maybe, I'm the only one doing a PLC course and being so lost with it. At least it's original. Cold comfort, but then, lots of good things are cold. Like ice cream.
And, er, soft drinks.
Current Mood:
geeky
Current Music: 'Like Toy Soldiers', Eminem